Last Updated on September 18, 2023
Discover the Best Quilting Sewing Machine With Large Throat: If you're an avid quilter or a sewing enthusiast looking to dive into quilting, you know the right sewing machine's importance. One key feature to consider is a large throat space, which allows for easier maneuvering and quilting of larger projects.
Top 4 Best quilting sewing Machines with large throat
We will review and recommend the top 4 Best quilting sewing Machines with large throat in this article. Whether you're a novice or a seasoned quilter, these machines will undoubtedly improve your quilting experience.
The Janome MC6650 Sewing and Quilting Machine is a top-notch quilting sewing machine with a large throat for quilting enthusiasts with its impressive features and user-friendly design. Here's a concise review of this machine:
Key Features
Large spool stand: Allows you to use bigger cones of thread.
All-metal construction: Provides a sturdy and durable base.
High sewing speed: Operates at up to 1,000 stitches per minute, reducing vibrations.
10-inch sewing arm: Offers comfortable working space, especially for free motion work and quilting.
Excellent fabric feeding: Extra high lift on the presser foot and a seven-point feed dog system ensure smooth fabric control, even with thicker materials.
Easy threading: Well-channeled thread path and built-in needle threader.
Adjustable pressure: Customize the pressure applied to the fabric for optimal feeding.
Versatile stitches: Includes garment construction, quilting, and appliqué stitches, as well as nine one-step buttonhole styles.
Convenient features: Built-in scissor for thread snipping, needle up/down function, and auto-lock feature for secure stitches.
User-friendly interface: Displays stitch diagrams, recommends suitable presser feet and offers adjustable stitch width up to 9mm.
Creative options: Independent bobbin winder, mirror-image capability, and easy needle plate change.
Warranty and support: Janome provides a 25-year limited warranty and lifetime customer support.
Additional benefits: Free lessons at the retail store for customers in the Muscle Shoals, Alabama area.
Overall, the Janome MC6650 is a reliable and feature-packed machine with excellent fabric control, easy operation, a wide range of stitches, and numerous convenient features for sewing and quilting enthusiasts.
The Juki HZL-NX7 is an amazing quilting sewing machine offering various features and functionalities. Below, we will explore what makes this machine special and highlight its key attributes.
Features
Large Throat Space: The HZL-NX7 boasts a generous 12-inch throat space, making it ideal for quilters. This spacious work area allows for easy maneuvering and handling of large quilts.
Built-in Stitches: With over 251 built-in stitches, including four sets of fonts and various buttonhole options, this computerized machine provides versatility and a wide range of stitching possibilities.
LED Screen: The machine features a user-friendly LED screen for convenient stitch and setting selection. The well-organized screen allows easy navigation through the stitch categories and subcategories.
Dual Feed Travel System: The integrated walking foot, known as the Juki Smart Feed System, sets this machine apart. Unlike traditional walking feet, it offers adjustable feed speed, ensuring smooth and even fabric feeding. This is useful for working with different fabric thicknesses.
Additional Features
Extension table for larger projects
Free arm for garment and bag sewing
Two interchangeable stitch plates
Ability to change feed dogs for specific stitching tasks
Automatic thread cutting and presser foot lift
The Juki HZL-NX7 Next Generation quilting sewing machine stands out for its large throat space, extensive stitch options, user-friendly interface, and innovative Dual Feed Travel System.
Its customization capabilities make it an excellent choice for quilters and sewists seeking versatility and precision. With its impressive features and ease of use, the HZL-NX7 is a top contender in quilting sewing machines with a large throat.
3. Janome Continental M7 Quilting Sewing Machine with Large Throat
The Janome Continental M7 is a standout machine in its own class. Its exceptional features and performance cater to a wide range of sewing enthusiasts. This machine is designed to handle various sewing projects effortlessly, from quilters to garment sewers.
Highlights
Spacious Bed: The M7 boasts a generous 13.5 inches of bed space, providing ample room for maneuvering large quilts and projects.
Powerful Motor: It has the most powerful motor of any domestic sewing machine, allowing for smooth and steady stitching even through thick fabrics.
AccuFeed System: The machine comes with the AccuFeed foot, which feeds fabric from the top and bottom simultaneously, resulting in precise and even stitching.
Versatile Stitch Selection: With a wide range of utility stitches, buttonholes, quilting stitches, and more, the M7 offers endless creative possibilities.
Customizable Settings: Each stitch has default settings, but you can also customize and save two custom settings for every stitch on the machine.
Additional Features
Comprehensive Parts Box: The machine includes a box of feet, including the Janome AccuFeed foot and high-performance AccuFeed foot, along with three needle plates for different applications.
Convenient Stitch Selection: The bright and easy-to-read screen displays all available stitches, allowing you to select and customize them effortlessly.
Sewing Applications: The M7 provides dedicated settings and features for sewing applications like quilting, appliqué, tricot, and more, making it suitable for various projects.
Free Janome App: By scanning QR codes on the machine, you can access built-in manuals, tutorial videos, stitch charts, and other useful information through the free Janome AccuSpark app.
Performance
The M7 excels in performance, effortlessly sewing through various fabrics. It handles delicate sheer fabrics precisely and tackles multiple layers of denim and even leather without skipping a beat. The AccuFeed system ensures consistent feeding and flawless results, making it an excellent choice for quilters and sewists working with curves and ruler work.
This sewing machine has a large throat. Its large bed, powerful motor, and varied features make it ideal for various sewing projects. Whether you're a quilter, garment sewer, or crafter, this machine offers superior performance and ease of use. With the Janome Continental M7, you can sit down and enjoy sewing without any limitations or complications.
4. Baby Lock Solaris Vision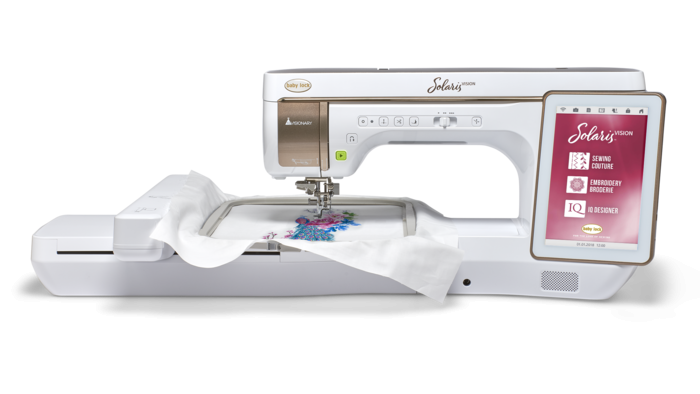 The Baby Lock Solaris Vision is a game-changer in quilting and embroidery. With its remarkable features and outstanding performance, this sewing machine is perfect for those searching for a quilting sewing machine with a large throat.
Embroidery Capabilities
Breathtaking large format auto-connect embroidery design collection
Long stitch design category for added creativity
Innovative embroidering couching using the built-in alphabet
Hoops ranging from 4×4 to extra large 10 and 5 8 by 16 for all project sizes
Advanced editing and placement tools for limitless design possibilities
Precise Placement
NeedleCam digital camera and IQ Visionary projector for perfect design placement
Embroidery projected directly onto fabric before stitching for accuracy
Professional-looking results guaranteed
Wi-Fi Technology
Use the Baby Lock Palette 11 software or a free design database transfer program to interact with the machine.
Wireless transfer of designs from a computer to a machine, eliminating USB connections
Automatic download and installation of software updates for hassle-free maintenance
Intuitive Monitoring
Connect the smart device to Solaris Wi-Fi using the IQ Intuition Monitoring app
Real-time alerts for color changes, embroidery completion, needle/thread breaks
Allows freedom from constant machine monitoring
Unleash Creativity
Contact local Baby Lock retailer for a demonstration of the machine's incredible features and more
Overall, the Baby Lock Solaris Vision is the ultimate quilting sewing machine. Its advanced embroidery capabilities, precise placement tools, Wi-Fi connectivity, and convenient monitoring app makes it the perfect choice for quilting and embroidery enthusiasts.
How to Choose the Best Quilting Sewing Machine with Large Throat – (Buying Guide)
When it comes to quilting, having the right sewing machine can make all the difference in the quality and ease of your projects. If you're in the market for a quilting sewing machine with a large throat space, there are several factors to consider before making your decision.  
Throat Space: The throat space refers to the distance between the needle and the right side of the machine. A larger throat space allows you to maneuver larger quilts and projects more easily. Look for machines with throat spaces of at least 9 inches or more to accommodate your quilting needs.
Storage and Extension Tables: Consider the availability of storage and extension tables. Some machines come with built-in storage compartments to keep your quilting tools and accessories organized. Extension tables provide extra surface area for working on larger quilts, giving you more stability and support.
LED Lights: Good lighting is crucial for accurate stitching and visual clarity. Look for quilting sewing machines with bright LED lights to illuminate the needle area and the workspace. This ensures that you can see your stitches clearly, even in dimly lit environments.
Feed Dog Adjustment: The feed dogs move the fabric through the machine. For quilting, it's important to have the option to adjust or lower the feed dogs. This allows you to free-motion quilt and create intricate designs with ease.
Stitch Options: Consider the variety of stitch options available on the machine. Look for machines that offer a wide range of quilting stitches, including straight stitches, zigzag stitches, decorative stitches, and even specialty quilting stitches. Having versatile stitch options allows you to explore different quilting techniques and add unique touches to your projects.
Pressure Adjustment: The ability to adjust the presser foot pressure is essential for quilting. Different fabric thicknesses require different pressure settings to ensure even stitching. Look for machines that offer easy and precise pressure adjustment options to accommodate various fabric types and thicknesses.
User-Friendly Interfaces: A user-friendly interface makes operating the machine effortless and enjoyable. Look for machines with clear and intuitive control panels, easy-to-read screens, and accessible buttons. A well-designed interface streamlines your quilting process and saves you time and frustration.
Remember, each quilting sewing machine reviewed offers unique features and advantages, catering to different quilting styles and preferences. Take the time to evaluate your needs and consider which features are most important to you.
It's also helpful to read customer reviews and seek recommendations from fellow quilters to understand each machine's performance and reliability better.
FAQ – People Also Ask
How much throat space do you need for quilting?
For quilting, it is recommended to have a throat space of at least 9 inches or more on a sewing machine. Some domestic sewing machines with quilting functions may have a throat space as small as 7 or 8 inches.
Can you quilt a large quilt on a sewing machine?
Yes, you can quilt a large quilt on a domestic sewing machine.  
Which Juki has the largest throat space?
The Juki TL-2010Q is great for speedy stitching, but the Bernina Q 20 has the largest throat space for larger quilting projects.
Conclusion
We hope this review of the top five best quilting sewing machines with a large throat has provided you with valuable insights and recommendations. Choosing the right sewing machine is crucial in achieving your quilting goals, and having a large throat space can make a significant difference in your quilting experience.
When deciding, consider factors such as storage and extension tables, LED lights, feed dog adjustment, stitch options, pressure adjustment, and user-friendly interfaces. Each machine reviewed offers unique features and advantages, catering to different quilting styles and preferences.
We hope you find the perfect quilting sewing machine that sparks your creativity and helps you bring your quilting projects to life. Happy quilting!
"I like to turn a piece of string into something that I can wear." I am dedicated to sharing knowledge on the necessary sewing equipment in The Sewing Stuffs.